Although there may be many people in today's American Church who seem to want to suck the joy right out of Christmas, I love this time of year.  I love the decorations.  I love the gifts.  I love that at least one time a year there are things everywhere reminding the world that God humbled Himself to take on flesh and become a man.  That during the darkest time of the year, the light of the world came on a rescue mission of love; love so great that holy God was willing to die for sinful men.
I think people in the church would spend their time a lot more productively if they would join the rest of us in sharing Jesus this time of year rather than looking for some kind of sinister darkness behind children smiling and opening gifts on Christmas morning.  Many of the traditions that Americans have during this time of year are just that, American traditions.  My Christmas tree was not invented by the Druids and then brought into the Church by the pope or Hitler.  I have my Christmas tree up in my living room for the same reason Jesus will have trees up in His sanctuary; to beautify it (see the verse and my Christmas tree below).
Isaiah 60:13
13 The glory of Lebanon shall come unto thee, the fir tree, the pine tree, and the box together, to beautify the place of my sanctuary; and I will make the place of my feet glorious.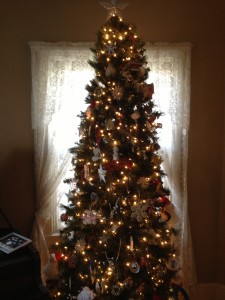 When you simply give people Jesus, look what you give to them:
Isaiah 61:3
3 To appoint unto them that mourn in Zion, to give unto them beauty for ashes, the oil of joy for mourning, the garment of praise for the spirit of heaviness; that they might be called trees of righteousness, the planting of the Lord, that he might be glorified.
This is the time of the year when people are most receptive to hearing about Jesus.  He is our only hope.  Instead of trying to steal the joy of our Christian brothers and sisters, how about sharing the joy of Jesus with a world that desperately needs it.